Moving Tips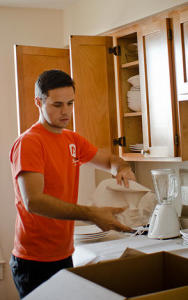 When it comes to moving tips, A-Plus Moving & Storage knows a thing or two. What's the key to a smooth move?
Organization.
Based on our years of moving and packing experience, we have compiled a series of moving tips and helpful hints – suggestions to assist you in organizing and planning your next move.
Clear out unwanted goods – hold a garage sale.
Get rid of flammables – paint, petrol, gas cylinders.
Empty fuel from mowers, clippers, trimmers and so on.
Clothes – do you need them all? Charity shops may want them.
Separate books – disposable, family reading, valuable.
Check all electrical goods – will they work in the new home?
Start making up your change of address list
Arrange to have mail forwarded.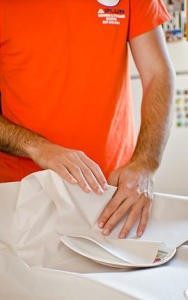 Arrange termination date for electricity, gas, oil, telephone and other main suppliers.
If you are taking electrical goods such as a stereo, see if you still have their original boxes.
Have rugs cleaned.
If you have children, separate cherished toys to travel with you.
Round up personal documentation – marriage/birth certificates, driving licenses and so on.
Keep passports separate so they are not packed.
Will your new home be ready? If not, you need to arrange temporary storage.
Before actually packing-up, you need to have a game plan.
For example:
Pack one room at a time. This will help you when it comes time to unpack.
Pack a couple of boxes a day, starting well ahead of the move.
Mark all boxes, designating room and box number.
Make a box identification log to show the number of boxes packed per room, and the total number of boxes packed. It's a good idea to leave space in your log for a special comments section to note box conditions or location of high value goods.
Notify our movers of any high value items.
Be sure to have plenty of "filling" material available.
Be sure that the bottoms of all boxes are secured and will hold the weight of the contents.
Packing tape or gummed tape is better than masking tape.
Pack heavier items toward the bottom of the box and lighter items toward the top. Try to keep a per-box weight of 50 pounds or less; it makes moving a lot easier. A general rule to remember on box size — the heavier the item, the smaller the box.
Contact A-Plus Moving & Storage for an accurate estimate

REQUEST A FREE QUOTE

Peter Gallup
They did a great job. Very specialized, courteous and considerate. The movers were on time, friendly and extremely careful with... read moreThey did a great job. Very specialized, courteous and considerate. The movers were on time, friendly and extremely careful with my furniture. It was a very reasonable price and a job well done. Moreover they gave us valuable information regarding move. Would certainly recommend them! read less - 11/16/2020

Michael B.

These guys are awesome. Super professional, fast, and really easy to deal with. They took about 5 hours total... read moreThese guys are awesome. Super professional, fast, and really easy to deal with. They took about 5 hours total to move a 2 bedroom from Cambridge to Malden. No issues whatsoever. Would 100% use them again. read less - 9/10/2016


Donna Wahlberg
Mike- I just wanted to thank you so much for all the help with my move ! Randy, Persion, and... read moreMike- I just wanted to thank you so much for all the help with my move ! Randy, Persion, and Elly over the past 2 days were wonderful! So pleasant, so careful, so conscientious. Lovely guys! Couldn't be more helpful. The best attitude. Couldn't have done this move to my condo and storage facility without them! I could go on and on! Please pass my RAVES to them again!! Your company name applies perfectly A-PLUS! I will gladly recommend you !!! Thanks again. read less - 8/21/2018