Insurance
We at A-Plus Moving & Storage always strive to offer our clients top class service and be as careful as possible at the same time. We treat the belongings of our clients with as much respect as we would treat our own goods.
Although we are one of the best moving companies in Boston, we are nonetheless human, and upon occasion, mistakes do happen. We want to make sure you are fully protected during your move, so when moving with A-Plus Moving & Storage, you can choose to purchase a valuation option that protects your shipment. If no option has been selected at the start of the move, A-Plus Moving & Storage will automatically apply Basic Liability. This default is mandated by state law.
All claims must be submitted to A-Plus Moving & Storage within 15 days after the move.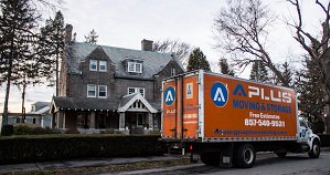 Valuation Coverage Option 1: Basic Liability
All moves are automatically covered by the standard liability (valuation) for the industry, which is $0.60 per pound per article. This amount will typically cover the costs required to repair damaged items, but not replace them. Certain items you have may not be adequately covered under this option. Another alternative is to purchase extra coverage through our third party provider or move the valuables items yourself instead.
Example: A 100lb dresser is broken, the payout would be 100lbs x .60cents/lb = $60.00. Depending on the extent of the damage or other factors A-Plus Moving & Storage also reserves the option to send a repair man out in-place. Sometimes this works out better for both parties.
Valuation Coverage Option 2: Select item(s) Depreciated Value
If you choose to insure only certain items, then you must itemize these goods and state their values. Each item should be listed with enough detail so that it cannot be mistaken for another item. Any item not listed on this sheet or in the "property description" area of the Agreement to Insure (issued on move day) will only be covered by Basic Liability.
Basically with this coverage if an item gets damaged during the moving process the customer will get the item repaired or replaced up to the declared value taken.
If A-Plus Moving & Storage undertakes the packing of your boxes, will assume liability for damage due to packing. If you choose to pack yourself, A-Plus Moving & Storage assumes no liability for faulty / inadequate packing.
Ask our relocation consultants about the details of your coverage and what are the available options and pricing.
Exclusion:
The following items are subject to exclusion from claims under all options:
– Items of extraordinary value not listed on the High Value Inventory form
– Lamps, lamp shades, artwork, pictures, mirrors, artificial plants, and statues not packed by A-Plus Moving & Storage
– Any marble or glass not crated or boxed by A-Plus Moving & Storage
– Items found broken in boxes that have not been packed and unpacked by A-PLUS Moving & Storage
– Mechanical condition of audio/visual or electronic equipment
– Computers and battery operated items in transit or storage
– Missing hardware for items not disassembled by A-Plus Moving & Storage
– Gold leaf or plaster frames and chandeliers not crated by A-Plus Moving & Storage
– Pressboard or particleboard furniture
– Previously damaged or repaired items
– Previously damaged or loose veneer
– Furniture where original glue has dried out
– Any small, loose items which are not boxed (keys, remote controls, etc.)
– If one item in a set is damaged, only that one item is covered by the insurance, not the entire set
– Plants (live, dried, or artificial)
Contact A-Plus Moving & Storage for an accurate quote:

REQUEST A FREE QUOTE